Come to Fred Haas Toyota World!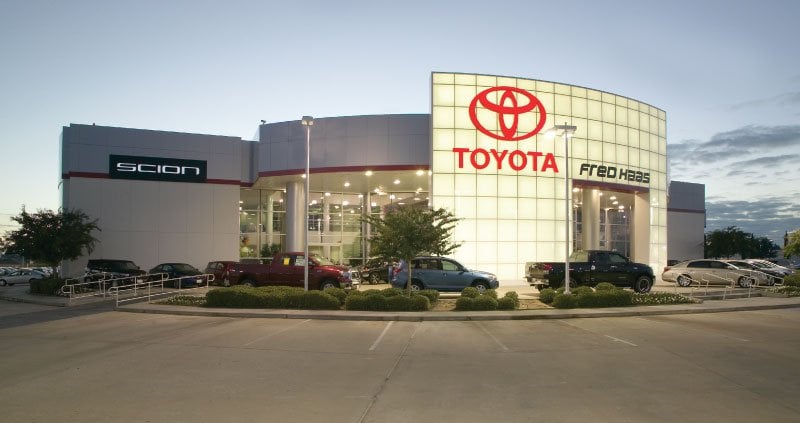 "You've got to see this place!" is more than just a motto. It's an invitation to experience the many ways that Fred Haas Toyota World has set themselves apart from the crowd. Located on a beautiful new 25 acre site on I-45 North in Spring, TX, this state-of-the-art facility offers customers a unique blend of comfort and amenities combined with an extensive inventory of over 2000 new and pre-owned vehicles. Whether buying a new vehicle or servicing or repairing an existing one, you will discover why the Fred Haas reputation for integrity, honesty, and customer service has been a hallmark of this community for over 45 years.
People make the difference
The biggest difference you will experience at Fred Haas Toyota World is a friendly staff of dedicated, well-trained, and experienced employees who understand and deliver the Fred Haas commitment and hospitality to customers. Reflecting the diversity of Houston today, the Fred Haas staff includes the best and the brightest of many different cultures, speaking many different languages.
The result has been continuous recognition from the automotive industry and Toyota in every aspect of the business. Most recently in 2015, Fred Haas Toyota World has been recognized by several industry awards as a leader among its peers:
Board of Governors -

A select group of 60 dealers chosen for their hard work and dedication to customer service and total customer satisfaction.

President's Award -

Toyota's most prestigious award to those dealers demonstrating excellence throughout every aspect of the customer's ownership experience. Fred Haas has received this award for 15 of the last 16 years.

Toyota Certified Collision Center of the Year -

Awarded to the top Certified Collision Center in the United States for superior quality of workmanship, repair processes and customer satisfaction. Fred Haas Toyota World Collision Center has won this award EIGHT times in the last ten years that it has been offered.

Toyota Signature certification -

Fred Haas Toyota World is a Signature Certified Dealership signifying implementation of superior processes throughout the store and a commitment to continuous improvement.

Better Business Bureau Winner of Distinction Award Recipient -

Fred Haas Toyota World is the proud recipient of the BBB's Award of Excellence "Winner of Distinction" for year 2006 through 2014 & most recently 2015 and the prestigious Pinnacle Award 2008, 2009, 2010, 2011, 2012, 2013, 2014  These prestigious awards symbolizes our commitment to 100% customer satisfaction and your complete happiness.
Giving back to the community through various charitable endeavors, Fred Haas continues to work with and support the University of Houston, the Juvenile Diabetes Foundation, and the Fred Haas Scholarship Fund, a program designed to help deserving area high school students attend college. In the past year, Fred Haas was a major contributor to Toyota's Hurricane Relief Fund.
All of these attributes and honors together mean just one thing--- a superior customer experience when buying, maintaining or repairing your vehicle. We believe our customers will appreciate and value the quality of service that Fred Haas and his employees have worked so hard to provide.