Black Friday sales are in full swing, just in time for the holidays! Save on new Toyotas at Fred Haas Toyota World in Spring. If you're looking to get on the road in a new car, truck or SUV - there's no better time than now!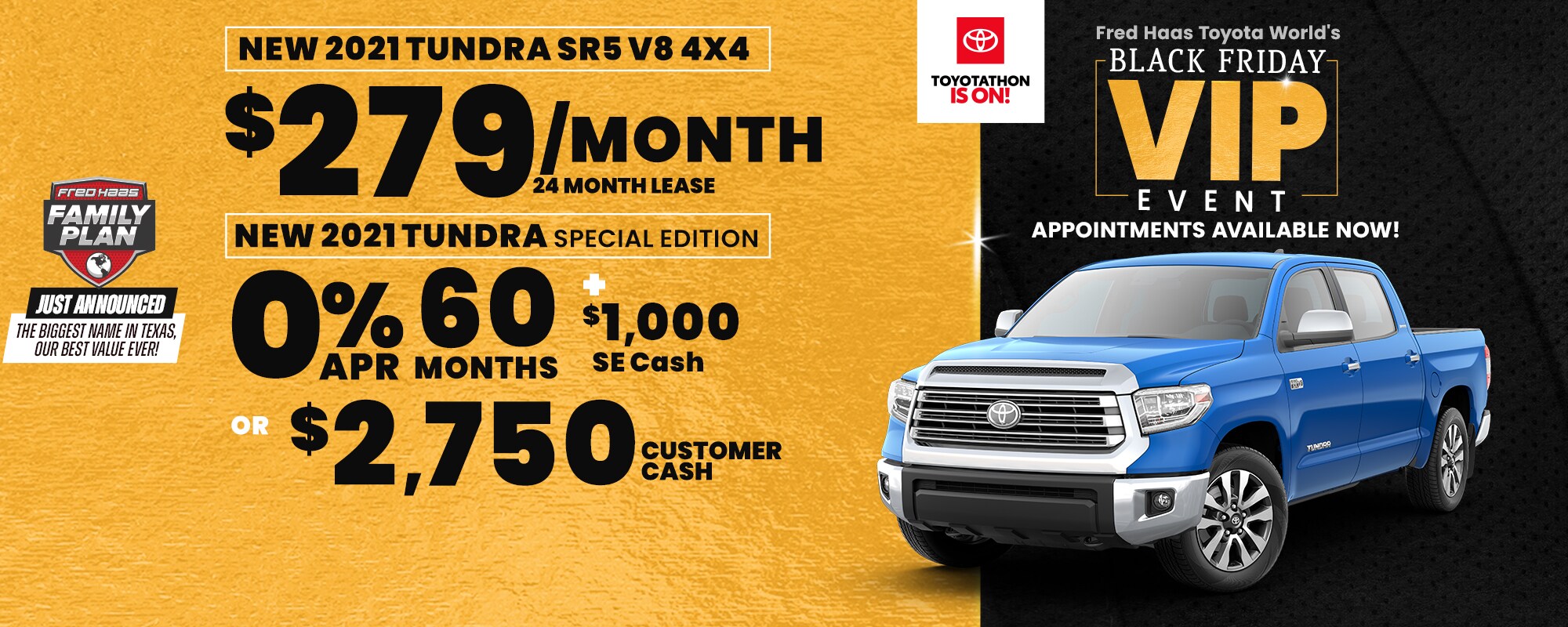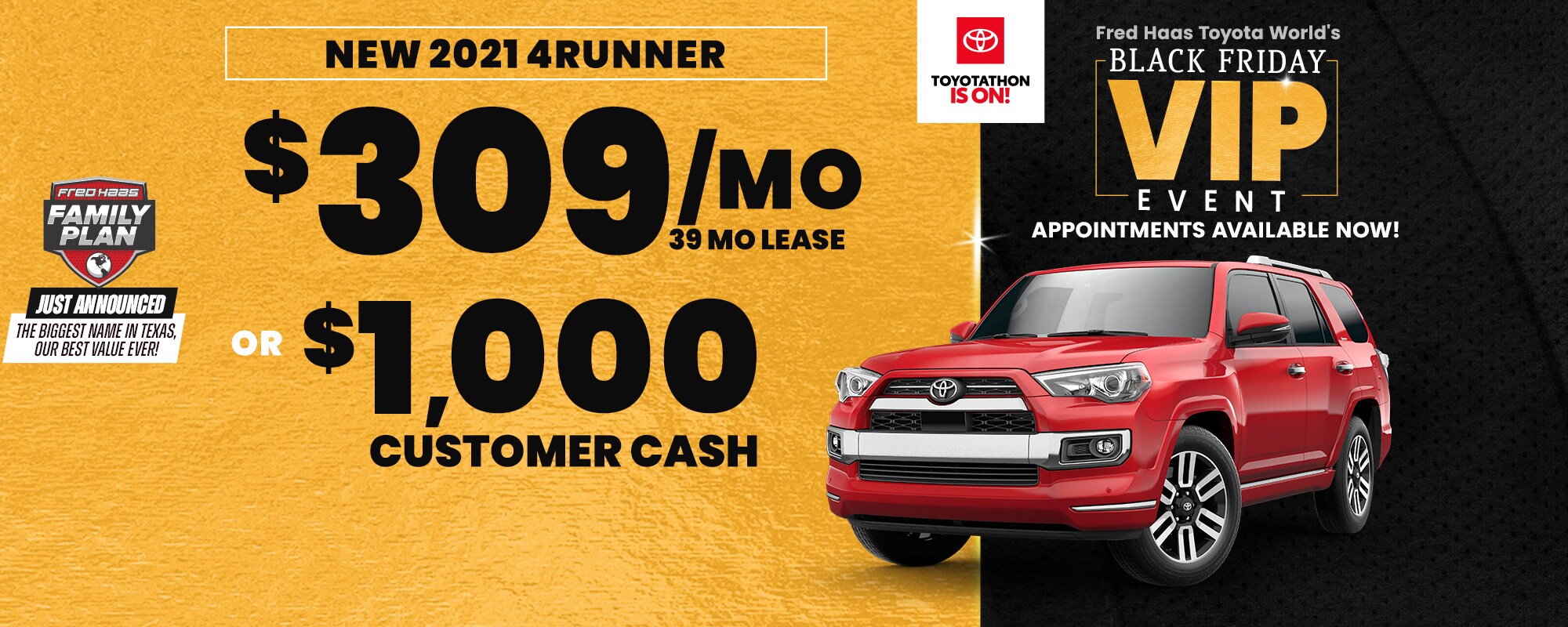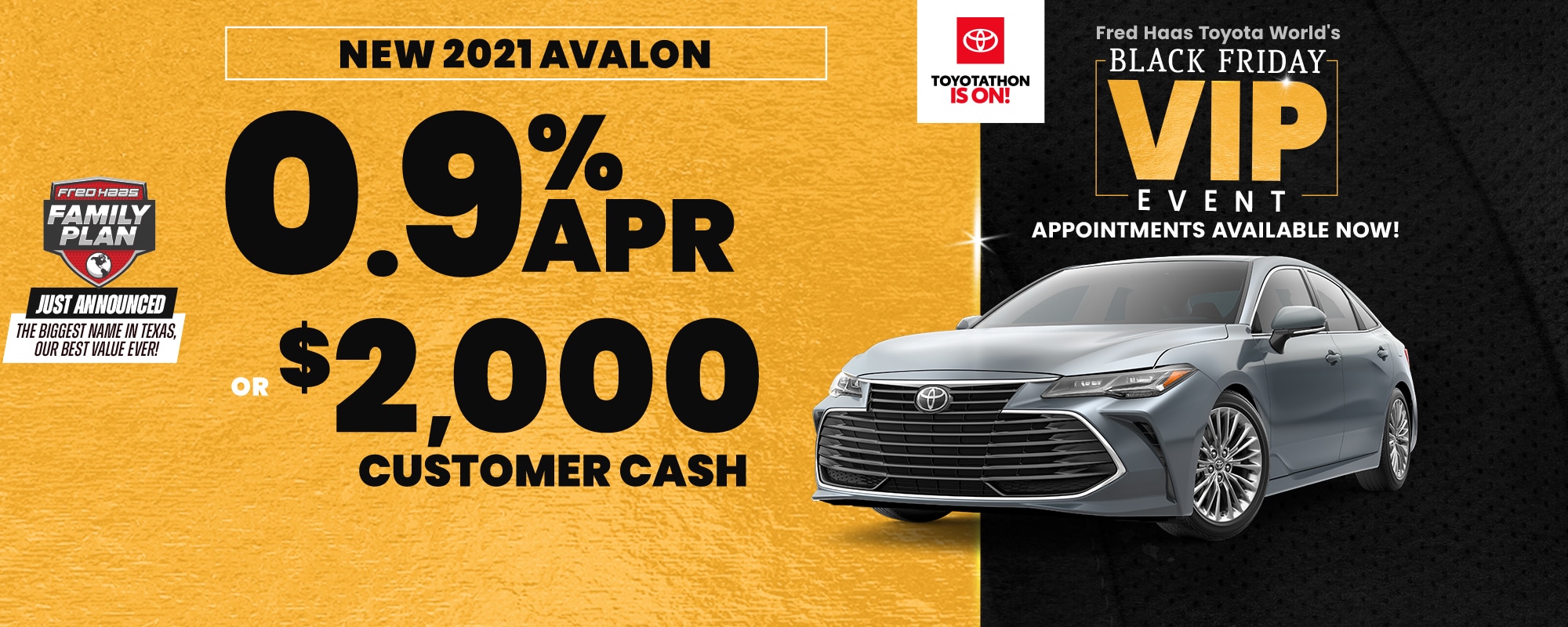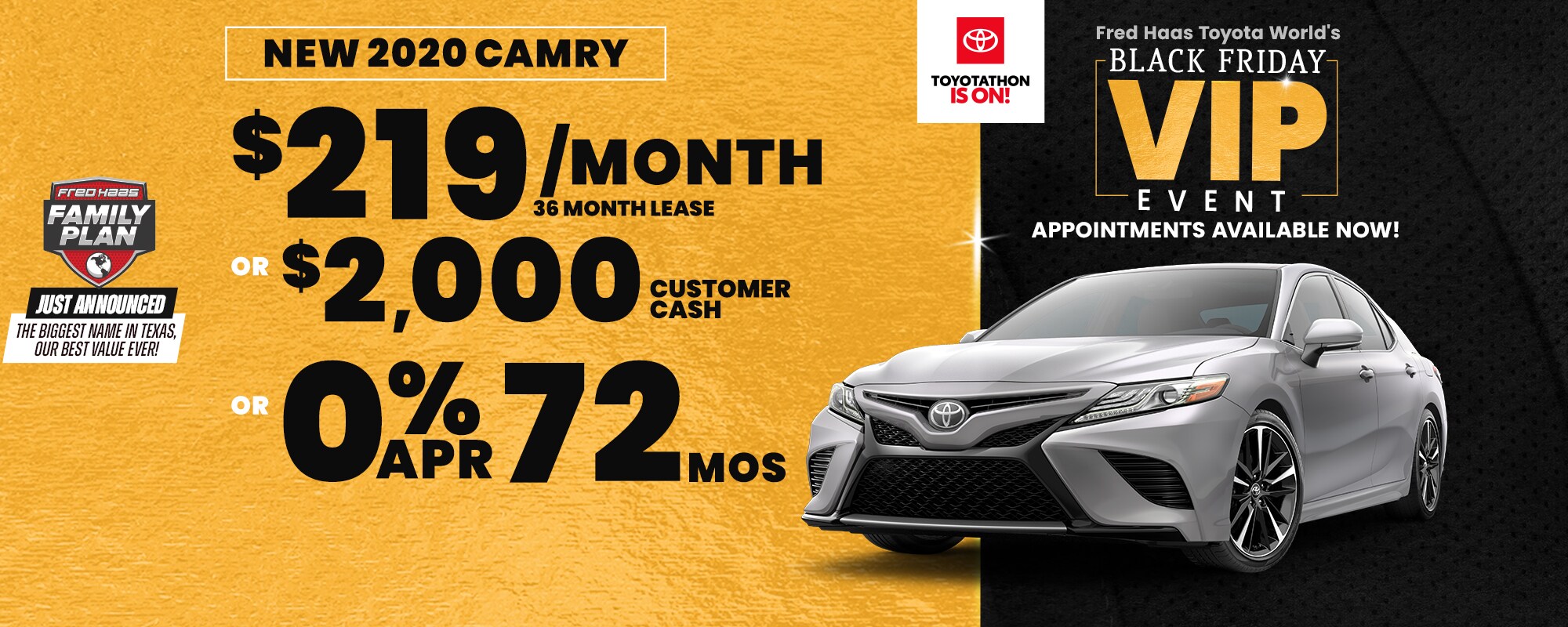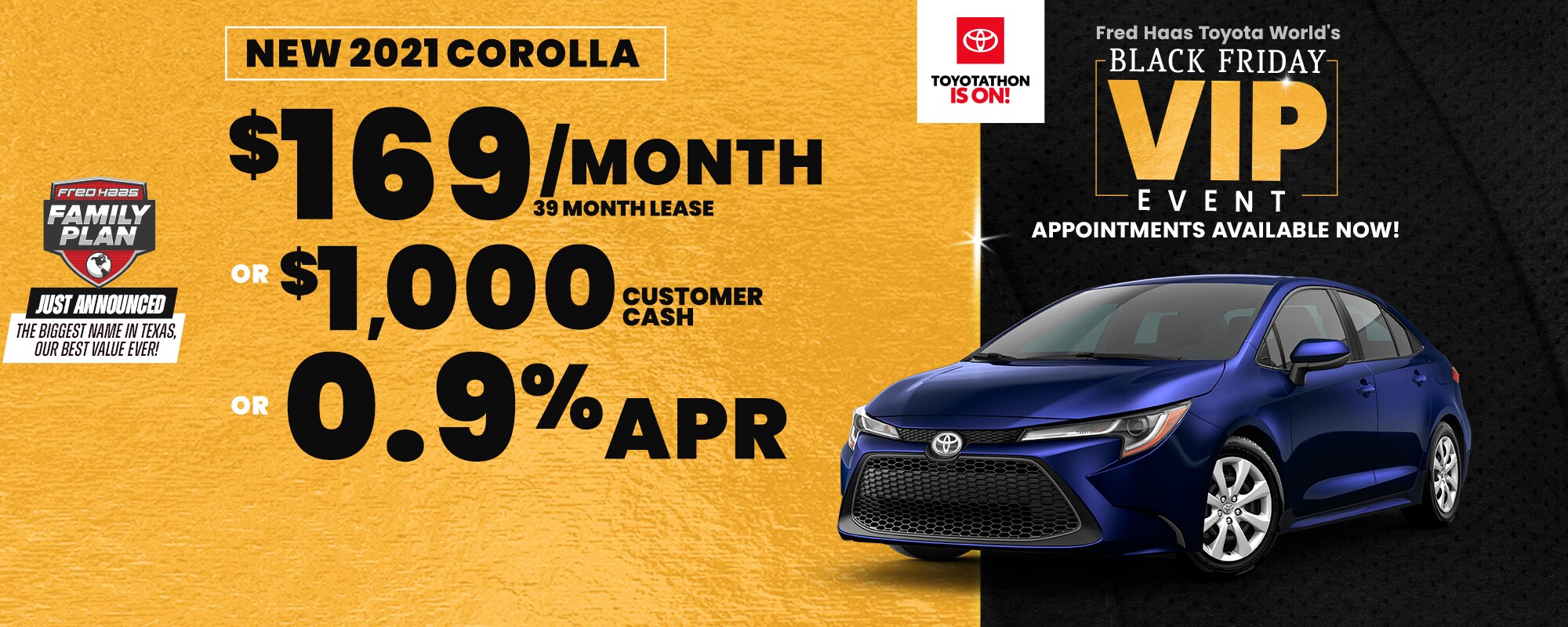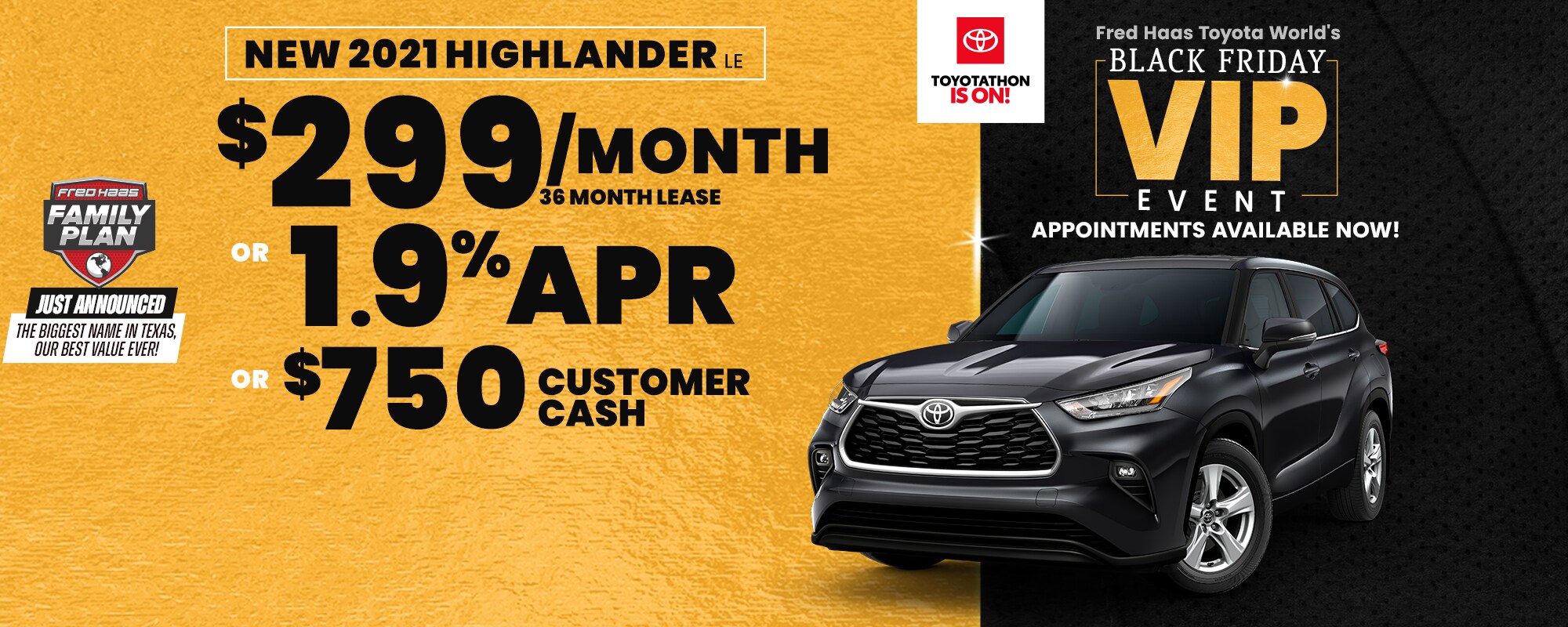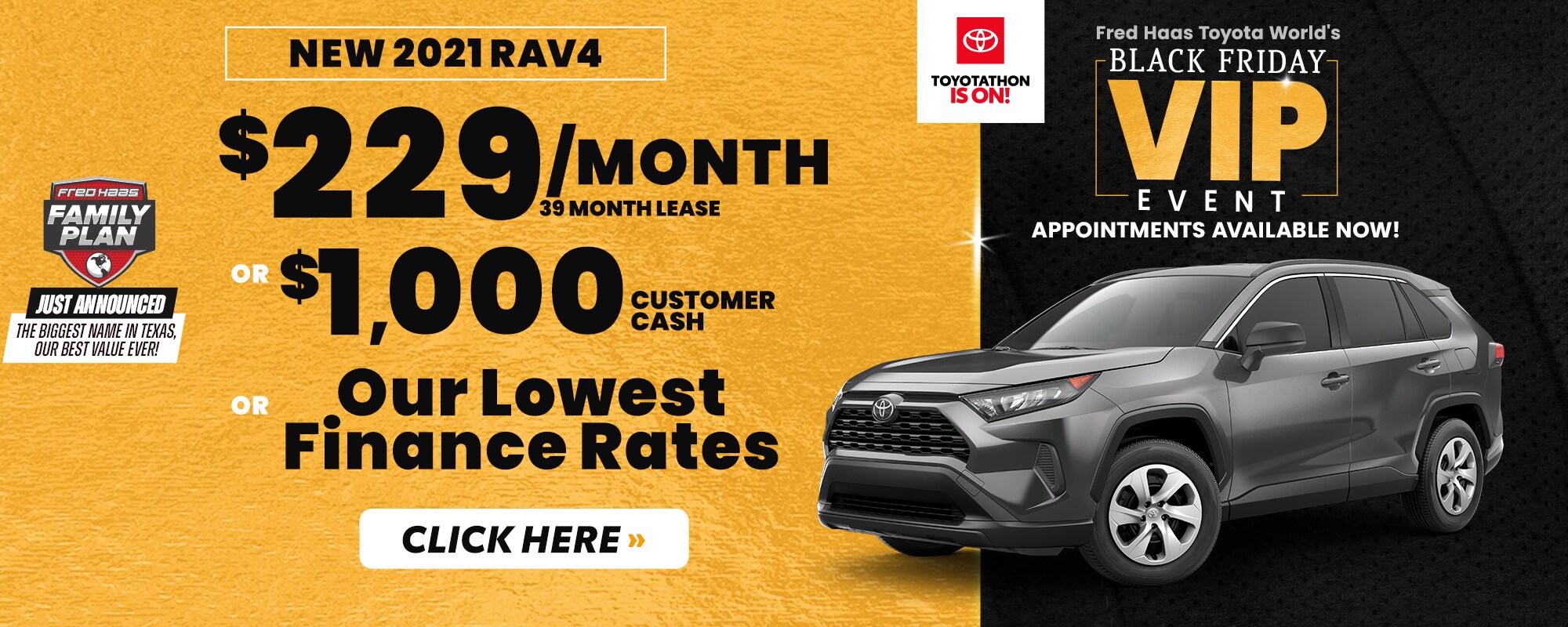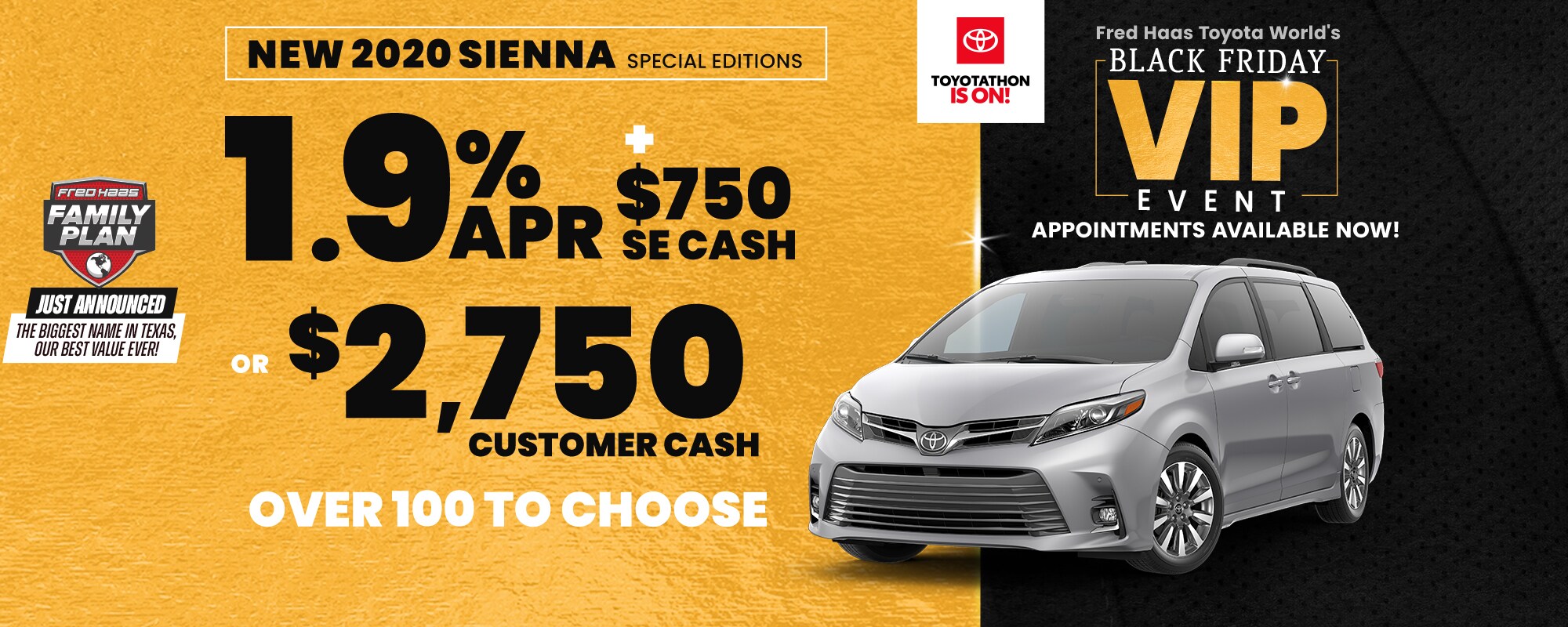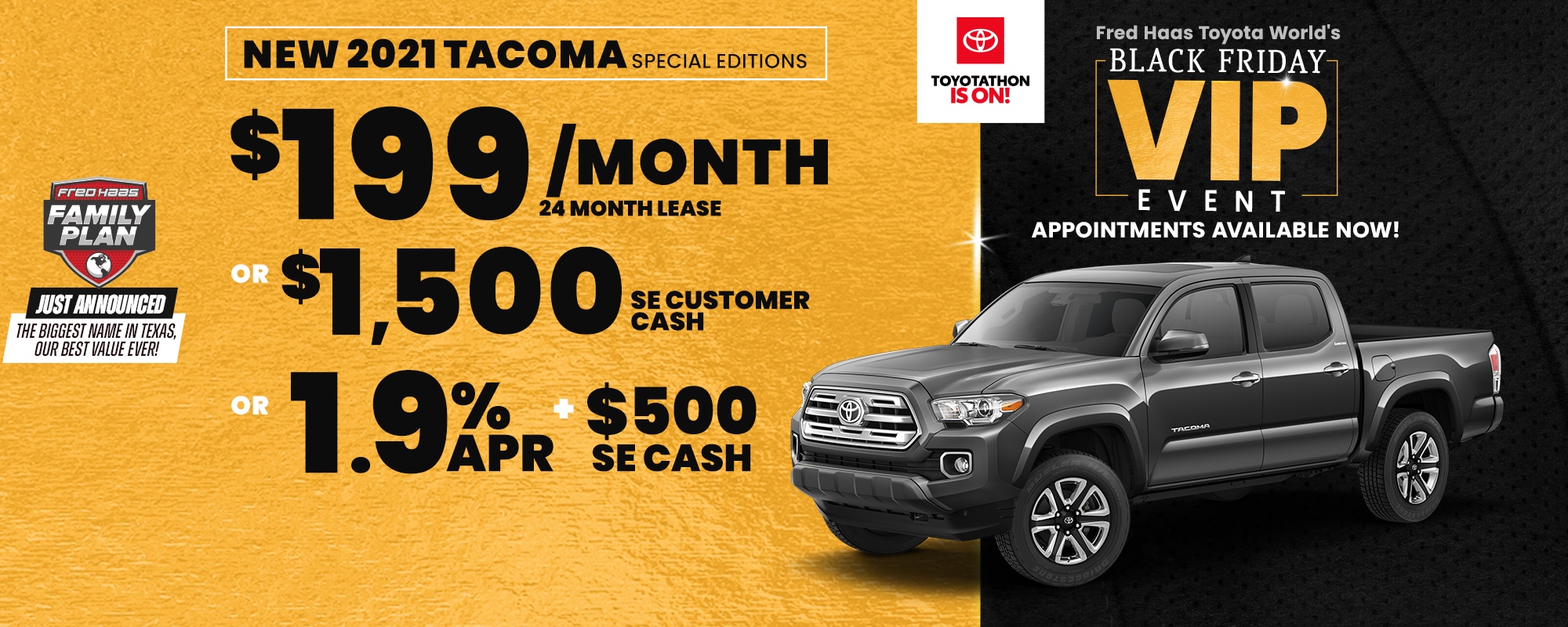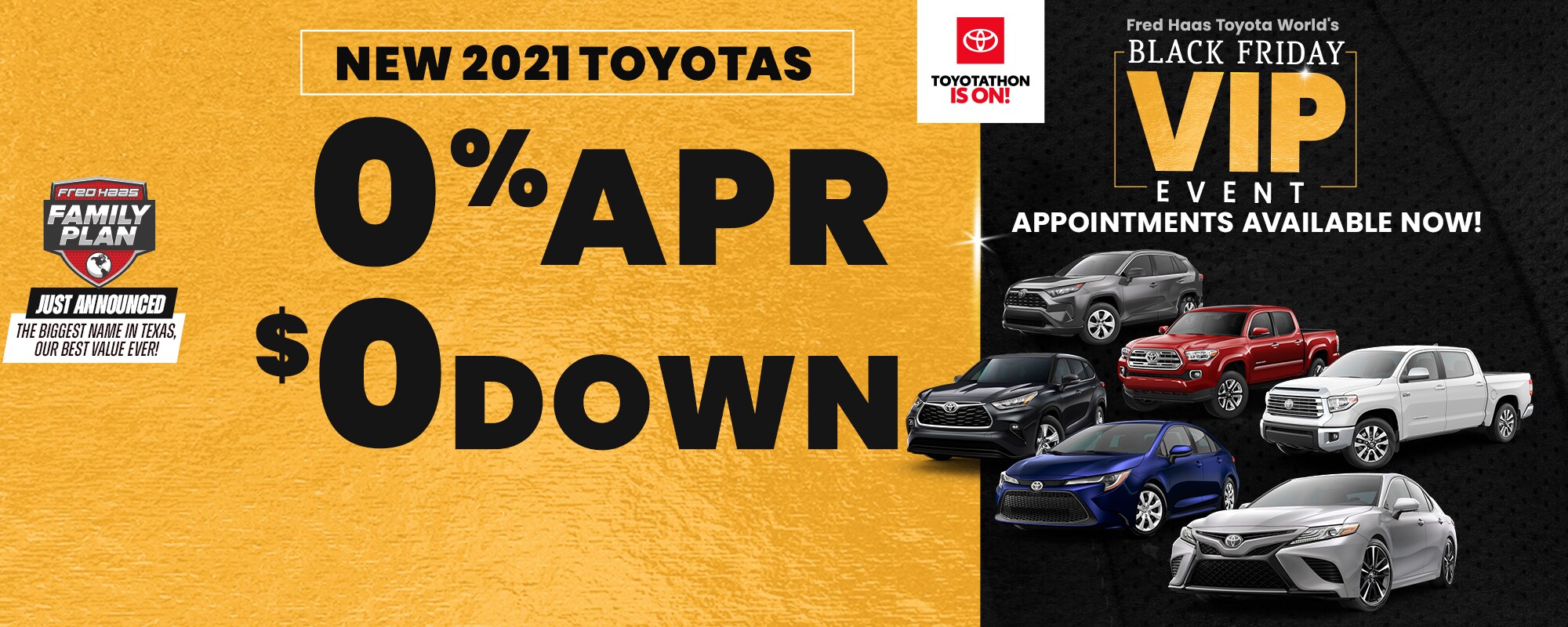 Let our team start your savings now by scheduling a test drive online or by calling 844-361-8416! Hurry - These deals won't last forever at Fred Haas Toyota World in Spring, TX! Find your dream car today with our Black Friday deals & offers. Get started online with our new Toyota options or used cars. 
Our dealership is open 8:30am - 9:00pm on Black Friday 2020. Our dealership will be closed on Thanksgiving day, November 26, 2020.
Disclaimers:
New 2020 Toyota Highlander - 
New Vehicle Offers exclude tax, title, license, insurance & $150 dealer fee, Offers mutually exclusive; with approved credit. Lease offers based on 36 month closed-end lease with approved credit; $0 security, 10k miles/year with $.15 per mile overage; Early termination fees may apply; Lease $2999 due at signing excludes TTL, insurance & $150 dealer fee and includes $2700 down payment & 1st month's payment of $299 with approved credit (includes $1000 deduction from either, all, or a combination of, Toyota Motor Sales, Toyota Financial Services or Gulf States Toyota). $0 security; Ex Model 6935, MSRP $36815, $32016 Net Capitalized cost; $10764 total monthly payment, $25402 Residual; Customer Cash from Toyota; 1.9% APR valid 60 months based on $17.48/$1,000 financed with approved credit, not all will qualify; ends 11.30.2020
New 2020 Toyota Camry -
New car offers exclude TT&L, insurance & $150 dealer fee; Lease offers based on 36 month closed-end lease with approved credit; $0 security, 12k miles/year with $.15 per mile overage; Early termination fees may apply; Lease $2999 due at signing includes $2780 down payment & 1st month's payment of $219 with approved credit (includes $1250 deduction from either, all, or a combination of, Toyota Motor Sales, Toyota Financial Services or Gulf States Toyota). $0 security; LE Model 2532, MSRP $25590, $21132 Net Capitalized cost; $7884 total monthly payments; Residual $13037; Or 0% APR with approved credit based on $13.89/$1,000 financed; Customer Cash from Toyota; Ends 11.30.2020
New 2020 Toyota Tundra -
Excludes tax, tag, title, license & $150 dealer fee; Lease offers based on 24 month closed-end lease with approved credit; $0 security, 12k miles/year with $.15 per mile overage; Early termination fees may apply; Lease $2999 due at signing excludes TTL, insurance & $150 dealer fee and includes $2660 down payment & 1st month's payment of $279 (includes $2750 deduction from either, all, or a combination of, Toyota Motor Sales, Toyota Financial Services or Gulf States Toyota). Standard Rate applies to receive customer cash.., $0 security; Model 8361 (Crewmax SR5 4WD V8 Special Edition TB Package, Excludes TRD Pro), MSRP $49666 with TB, TE, TF Packages, $42308 Net Capitalized cost; $8136 total monthly payments; Residual $38739; 0% APR 60 months based on $16.67/$1,000 financed with approved credit plus $1000 special edition customer cash from Toyota; $2750 Special Edition customer cash includes $1,750 Toyota customer cash + $1,000 special edition cash from Toyota (TJ, TF, TA & TB models); ends 11.30.2020
New 2020 Toyota Corolla -
New Vehicle Offers exclude tax, title, license, insurance & $150 dealer fee, Customer cash from Toyota; Lease offers based on 39 month closed-end lease with approved credit; $0 security, 10k miles/year with $.15 per mile overage; Early termination fees may apply; Lease $2999 due at signing; includes $2820 down payment & 1st month's payment of $169 with approved credit . $0 security; Model 1852, MSRP $21584, $6981 total monthly payments; Net Cap Cost $18578, Residual $13166; 0.9% APR for 60 months based on $17.05/$1,000 financed valid with approved credit;ends 11.30.2020
New 2020 Toyota RAV4 -
New Vehicle Offers exclude tax, title, license, insurance & $150 dealer fee, Offers mutually exclusive; with approved credit. based on 39 month closed-end lease with approved credit; $0 security, 10k miles/year with $.15 per mile overage; Early termination fees may apply; $2999 due at signing includes $2770 down payment & 1st month's payment of $229, with approved credit (includes $500 deduction from either, all, or a combination of, Toyota Motor Sales, Toyota Financial Services or Gulf States Toyota). $0 security; Model 4430, MSRP $27818; $8931 total monthly payments; $0 down subject to credit approval, $24287 Net Cap Cost, $18638 Residual; Customer Cash from Toyota; ends 11.30.2020
New 2020 Toyota Tacoma -
New Vehicle Offers exclude TT&L and $150 dealer fee; MY20 Lease offers based on 24 month closed-end lease with approved credit; $0 security, 10k miles/year with $.15 per mile overage; Early termination fees may apply; Lease $999 due at signing includes $800 down payment & 1st month's payment of $199 (includes $1000 deduction from either, all, or a combination of, Toyota Motor Sales, Toyota Financial Services or Gulf States Toyota). Standard Rate applies to receive customer cash.$0 security; Model 7146, MSRP $7185 with TB Package (Excludes TRD Pro), $27893 Net Capitalized cost; $4776 total monthly payments; Residual $26433; 1.9% APR valid with approved credit for 60 months based on $17.48/$1,000 financed; $1,500 SE Customer Cash includes $500 Special Edition Cash and $1,000 Customer Cash both from Toyota; ends 11.30.2020
New 2020 Toyota Sienna -
Exclude tax, title, license, insurance & $150 dealer fee, 1.9% APR with approved credit plus $750 Special Edition customer cash from Toyota valid on EP models; $2,750 SE Customer cash from Toyota mutually includes $2000 customer cash & $750 Special Edition EP customer cash; ends 11.30.2020
New 2020 Toyota Avalon -
Exclude tax, title, license, insurance & $150 dealer fee, APR mutually exclusive with approved credit for 60 months based on $17.05/$1,000 financed; Customer cash from Toyota mutually exclusive; ends 11.30.2020
New 2020 Toyota 4Runner -
New Vehicle Offers exclude tax, title, license, insurance & $150 dealer fee, Offers mutually exclusive; with approved credit. Lease offers based on 39 month closed-end lease with approved credit; $0 security, 10k miles/year with $.15 per mile overage; Early termination fees may apply; Lease $2999 due at signing excludes TTL, insurance & $150 dealer fee and includes $2690 down payment & 1st month's payment of $309 with approved credit (includes $500 deduction from either, all, or a combination of, Toyota Motor Sales, Toyota Financial Services or Gulf States Toyota). $0 security; Ex Model 8642, MSRP $37719, $33457 Net Capitalized cost; $12051 total monthly payment, $26780 Residual; Customer Cash from Toyota; ends 11.30.2020


New 2021 Toyotas - 

New Vehicle Offers exclude tax, title, license, insurance & $150 dealer fee; 0% APR valid with approved credit on select MY21 Toyota models for 72 months based on $13.89/$1,000 financed; $0 down subject to credit approval; Ends 11.30.2020